Did you know 85% of the human brain develops by age 3? 
By playing with this toy, your child won't miss out on even 1% of that. Shapes and colors make up the world around us, so we put them in bitesize pieces for our youngest ones to learn.
Matching colors and fitting shapes together will help your toddler create new brain pathways making school a piece of cake.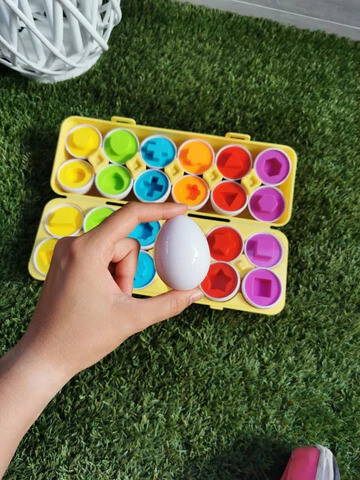 If you wish to help your little one learn…
It's one thing to say, "this is yellow" or "that is a triangle," but to actually hold it in hand, examine it from every angle, and combine it with corresponding shapes, helps children understand the very nature of the object or color in question. This is how they learn geometry and the basics of STEM education.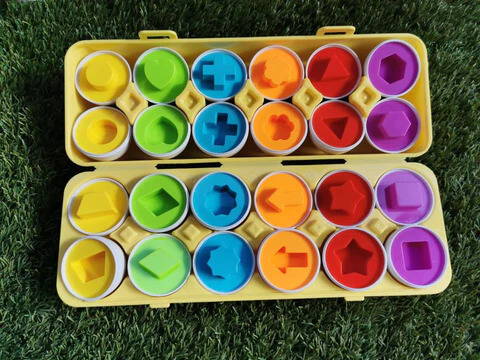 Helps fine motor skills, improves memory, and strengthens brainpower
Reduces anxiety, agitation, discomfort, and restlessness in toddlers
Keeps your child engaged and motivated to learn for hours
Develops independence, color recognition, attention span, self-discipline
You want a safe toy for your child with smooth edges and materials according to international standards. You also want a toy that will "survive" all the banging, throwing, and being stepped on. 
Many toddlers had their way with this toy, and we haven't heard a single complaint. So, this is the toy you are looking for!
Need a toy for your toddler's next playdate?
It can fit into any bag and is lightweight, so your little one can carry it and enjoy it with friends. All of the dozen eggs fit perfectly and can always be accounted for if you ever wonder whether you have lost one under the sofa.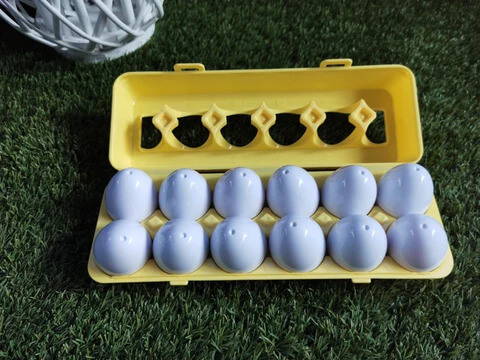 How to cook with your toddler 101
The packaging looks like the one found in supermarkets, so be careful not to boil these eggs instead of real ones. Also, we are not about to give you our grandma's secret chocolate cake recipe, so you can prepare any meal you like. Cook and play until the dinner is ready, but remember to take a photo as well. This is a memory you will cherish for a lifetime.
Age Range:  >1 year old
Features: Educational
Material: BPA-free plastic
Gender: Unisex
Don't look at this as a simple toy purchase. Look at this as an investment in your child's future. Get Yours Now!
Monica Edwards
 my daughter loved it from the moment she laid her eyes on it. She's not going anywhere without it. This toy brought so much joy to my home. Thank you Montessori Generation.
Jessica Bordeaux
We are having such an amazing time with this toy. I have bought something similar before but it's no match to this. Loooove it!
Rebecca Davis
Both my granddaughters love this. They are 3 and under. The shapes and colors are nice. I appreciate that the eggs store nicely back in the cartoon. Fun to watch them as they match the shapes and colors together. I have already bought another as a gift.
Vivienne Thomas
Excellent toy! Just the right size for my almost 1 year old granddaughter. She loves taking the eggs out and putting them back in the carton that is just like Mom's egg carton. She is interested in the centers and matching the pieces, but is still a little young for the complete job. This is a great "grow into more activities" toy–not one that will be discarded in a month when she is older. Prompt shipping, great packaging, well worth the money to see her joy!
Carol Margaret
Such a great toddler gift! My son is 18 months old and can get these apart and put them back together pretty easily. He's not great at matching them on his own yet. He can match the colors, but can't match the shapes right away – there are two eggs with each color. My son loves toys that involve organizing, sorting, matching, etc. So he definitely loves this toy! The toy itself is super sturdy, definitely not going to break with normal, everyday use. The colors are bright and fun. Definitely happy with this purchase and would purchase again! A great
Victoria Elis
My 2 year old is obsessed with "eggies" and wants to crack them all the time. She has gotten into the fridge, got the eggs out and made a very big mess. She's always asking to crack eggies. I thought there must be a toy out there to crack egged and sure enough there was. This has saved us a lot of begging to crack eggs and messes! She loves them, she stays busy taking them apart, identifying the colors and shapes, then matching them back up together.
This educational toy is an eggscellent way to teach colors and shapes. My daughter loves to get into my fridge and play with eggs. We have a child proof lock on it just for that reason lol but the joy in her face when she saw she could play with these eggs was amazing. WHen she discovered they "crack" open and they are all colored on the inside with shapes that fit the other side, like a puzzle.
Crystal Squires
Great toy sturdy good quality . Keeps little one busy !!!