Most cats don't drink enough water, that's why we created the Cat Water Dispenser. It's the easiest way to improve your cats health and happiness, by providing them with a constant stream of fresh, filtered water. Which helps prevent grumpiness and diseases.
Clean, filtered water all day long
Keep your cat happy & healthy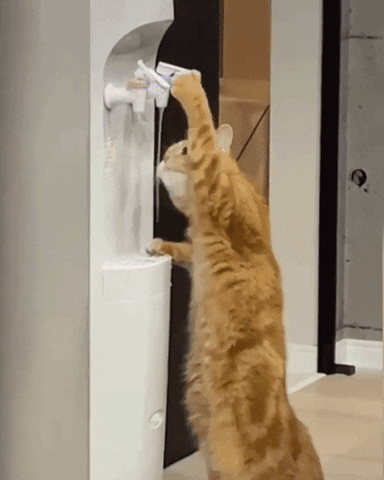 Is Your Cat Drinking Enough Water?
We all know cats need to drink plenty of water. But did you know that in the wild, cats drink twice their body weight in water every day. In a household environment, that equates to a lot of work for you!
The Cat Water Dispenser, is a revolutionary new device that will keep your cat healthy and hydrated all day with a healthy constant stream of water.
Cats that drink plenty of water are healthier, happier, and more active. As well, they are less likely to get bladder and kidney infections, which is the number one diseases that cats get. With Cat Water Dispenser, you can help your cat live a longer, better life.

FRESH & CLEAN WATER ALL DAY LONG
PREVENT DISEASE & SICKNESS
PROVIDES ENOUGH WATER FOR 2-3 DAYS
2L Large Water Tank
Unlike other fountains the Cat Water Dispenser holds up to 2L of water, saving you time from constantly having to fill up water bowls. As well, it is impossible for your cat to knock over.
MADE WITH ONLY THREE MAIN PARTS
Easy To Clean & No Splashing
Designed with only three main parts, our design prevents any splashing and makes cleaning an easy job. Cleaning your cat water fountain has never been easier. The parts easily come apart so you can have your Cat Water Dispenser cleaned in less than ten minutes.
REMOVES 99% OF IMPURITIES
Circulating Water System
The Cat Water Dispenser is equiped with our carbon activated filters to clean and purify the water your cat is drinking from all of the bacteria that gets into a traditional cat water bowl. To keep your cat healthy and to avoid diseases and infections so your cat can live a long, happy life.
4 Key Benefits Of Cat Water Dispenser
No more sink sipping – Your cat deserves fresh & clean water.
Cats prefer to drink from flowing water – It's more natural and healthier.
Easy to set up – Takes less then 5 minutes & USB powered.
No More Dehydration – The LED light sparks curiosity in your cat to drink more.