Expand car storage capacity
Convenient and Fast car life
Large opening design, Easy storage
Orderly storage in multiple pockets, Say goodbye to the mess in the car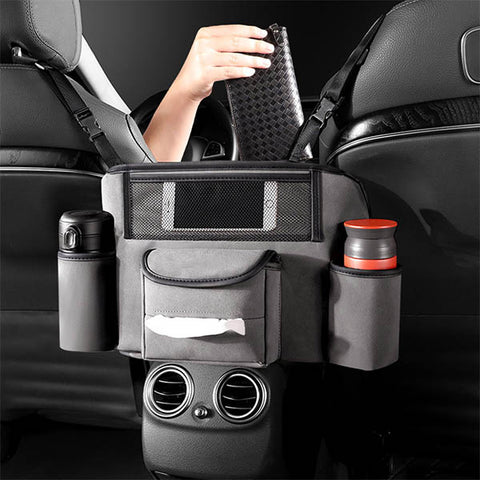 Extra Capacity Storage: The handbag holder helps to store more things than others with a higher front guardrail, and makes full use of the space between the front two seats, giving you extra storage space.
You can put large objects such as handbags or paper bags inside, and also you can store small objects such as wallets, water bottles, and paper towels, keeping them in good order.
Premium PU Material & Precise Craft: This car handbag holder is made of premium PU Material, which is durable, flexible, and of great texture.
There's a PE board at the bottom to provide a stronger car organizer and storage capacity.
Furthermore, the precise craft could be discovered in every detail of reinforced wiring, safety buckle, and velcro, making this car bag holder stand out among numerous car bags at the market.
Keep Safe Driving: All the items stored in the car organizer are within easy reach, you can get your items easily without transferring your eyes from the road, providing safe driving.
It also serves as a barrier for pets and children in backseats to keep no disturbing.
Simple, Fast Installation: Installing was fairly straightforward.
There's no need to struggle with any bolts, screws, and suction cups with this mesh large-capacity bag
It takes only a minute to install and does not require any additional electronics or lights.
Simply strap the purse storage and pocket into the center console, then buckle it to the front seats.
SPECIFICATION
Material: PU
Weight: 360g
Package Includes: 1* Car Large Capacity Pu Storage Bag
Product Size&Color: